Alzheimer's Vehicle Tracking
Protect the Ones You Love With GPS Tracking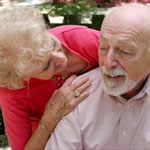 Our Personal WatchDog is a small but economical GPS tracking device that provides the user with the exact location and speed of the vehicle. It also allows you to remotely unlock the doors, disable the starter, and includes alarm notification, theft notification and much more.
The Personal WatchDog can be used in motorcycles, ATVs, boats, cars, pickup trucks, and generators. The WatchDog quietly tracks the vehicle's exact location. When paged by the user, the unit will reports the vehicle's location using cellular communication signals (this requires an airtime plan which can be subject to overage charges).
Personal WatchDog Features and Capabilities
Your WatchDog can be paged via the web or touchtone phone for location, speed, and direction.
Your WatchDog can be paged via the web to get the vehicles fastest speed since midnight the previous day.
Your WatchDog can be put into vehicle recovery mode by paging via the web. In this mode the vehicle will automatically report its location a pre-set number of times.
For your convenience, your vehicle's doors can be unlocked via any touch-tone or web enabled PC.
You may also disable or enable your vehicle's starter via any touch-tone or web enabled PC. When the ignition of the vehicle is turned off, after the signal is received, an automatic report is sent to your choice of communication with the location of the vehicle.
An electronic fence of an 1/8th of a mile or hundreds of miles can be set around the vehicle. Should the vehicle be moved outside of this "electronic fence" a report will be sent to the owner by telephone, e-mail or text message to your cell phone.
FEATURED GPS SERVICES
Telvistar™
If you have hundreds or thousands of customers and would like even better reporting, look no further than Telvistar™. Read More
Theft Protection
GPS Tracking gives you the best probability of finding your equipment if taken from your jobsite or yard. Read More
Alzheimer's Tracking
Our Personal WatchDog can helps protect your loved ones by tracking their speed and exact location. Read More
Hands-Free Kits
This easy-to-use internet based product has outstanding coverage and will show all stops and speeds. Shop Online
Call GPS of TEXAS Today! (210) 587-7634