Trimble TrimWeb GPS Tracking System

Trimble's outstanding TrimWeb GPS tracking system is the product of choice for the majority of our customers. As a GPS Dealer and Service Center, we have the opportunity to look at many competitive products on the market. Nothing we have seen or worked with can hold a candle to the ease-of-use and great reporting afforded by this tracking system.

TrimWeb is a complete, affordable solution for managing your mobile resources. It eliminates the unknowns of vehicle location and status, making the management of your mobile assets easy, timely, and accurate. The tracking system is accessible from any PC running Internet Explorer and pays for itself quickly in fuel savings, better allocation of mobile resources, and faster response to customer requests. It is even able to send alerts for driver safety issues such as speeding.
Key Benefits
Elimination of Unauthorized Use

TrimWeb tracks the location of vehicles any time, anywhere. This allows fleet managers to eliminate unauthorized access, and reduce theft or asset abuse.
More Deliveries Per Day

More efficient fleet routing, decreased driver down-time, and minimized impact of traffic and weather delays help to increase the number of deliveries and customer stops.

Reduced Overtime

TrimWeb automatically logs arrival and departure times at the job sites and tracks the time "en-route" rather than "on the job" so drivers are performing at their peak efficiency level, and fleet managers have better control over drivers' hours on the job.

Reduced Mileage

Fleet managers are able to monitor routes and evaluate historical data to ensure that their drivers are using the most efficient routes.

Customer Satisfaction

Being able to provide faster response to service requests and accurate, reliable delivery status at any given time leads to more satisfied customers, and satisfied customers lead to repeat business.

Driver Safety

TrimWeb can tell how fast a vehicle is being driven and for how long it traveled above a predefined speed, allowing fleet managers to make necessary adjustments to ensure more responsible driving.
GPS Tracking Tutorial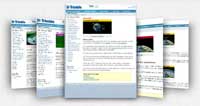 GPS Tracking can seem like a fairly complicated process. Trimble has an excellent tutorial on their website that explains the workings of GPS tracking in easy to understand terms. It is the best tutorial we have seen and will explain to you how GPS comes up with the actual position that it reports to you. It is truly amazing technology.