Equipment Theft Protection
Protect Your Vehicles with GPS Tracking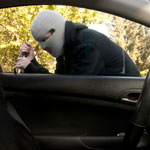 Have you ever had a piece of equipment stolen? Wouldn't you love to catch the thief and beat the heck outta him? Well at least get your equipment back before it heads over the border. Why not put a very low cost GPS Tracking unit on your equipment that allows you to find it if stolen? You might even receive a discount on insurance. WatchDOG gives you the best probability of finding your equipment if taken from your jobsite or yard, and will pinpoint a location on the map at a very low cost. It also has many other capabilities. To see how we compare to the main competition, just click here: WatchDOG vs. OnStar.
The WatchDOG Tracking Solution offers a low-cost, reliable program for Heavy Equipment and any vehicle. WatchDOG provides easy to use tracking and starter disabling for stolen vehicles, unauthorized use and non-payment.
Features:
Battery Backup if thief disables battery
Starter Disable (for special circumstances)
Vehicle Tracking (in case of theft or unauthorized use)
Customized location scheduling
Gives you location, address, speed, GPS coordinates, time and date
Detailed web based map display of vehicle location
Unlike LoJack, you can find your equipment without filing a police report on a stolen vehicle.
Insurance Discounts
Protect Your Vehicle or Equipment and Save Money!
Even though it provides much broader functionality, WatchDOG is also an Anti-Theft Device. Please contact your insurance agent or insurance carriers to determine if an anti-theft device discount is available in your area. Additionally, several states have laws that mandate that insurance carriers offer anti-theft discounts.
* Discount percentages apply to comprehensive coverage and vary by state, and obviously are subject to change. Each insurance carrier has its own underwriting guidelines and not all applicants will qualify.
** National Association of Insurance Commissioners.Discount percentages vary by state. Each insurance carrier has its own underwriting guidelines and not all applicants will qualify.